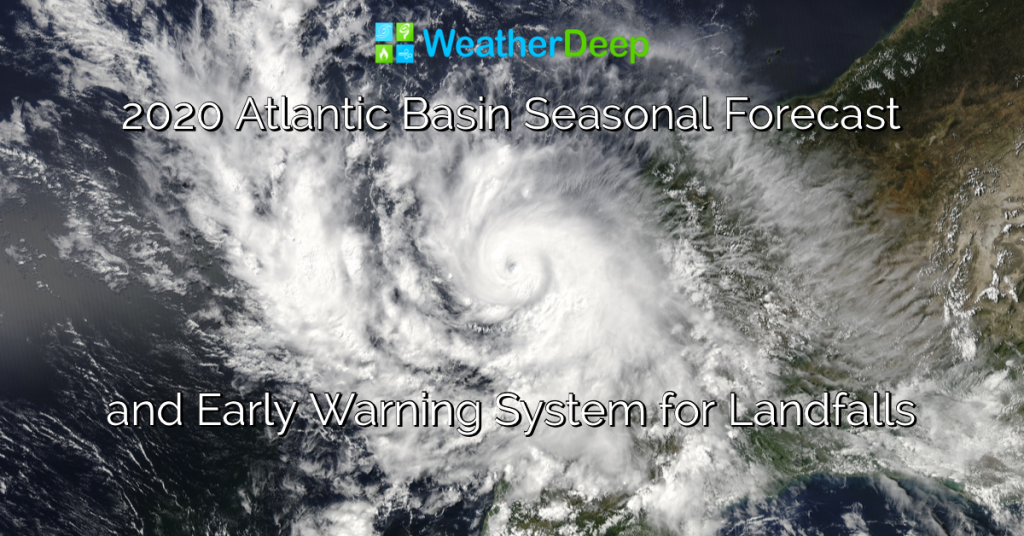 WeatherDeep has deployed it's Early Warning System for U.S. Tropical Cyclone Landfalls!  Contact us to learn more…
WeatherDeep has initiated its Early Warning System for U.S. Tropical Cyclone Landfalls for the start of the 2020 Atlantic Basin Hurricane Season. The system, deployed in August 2019, was instrumental in notifying WeatherDeep's subscribers of landfalls associated with Imelda and Nestor with lead-times ranging from 9 to 40 days, while providing potentially 40-45 days of leadtime in advance of storms such as Hurricanes Harvey and Michael.
The current forecast describes expected impacts from TC Cristobal in the southern U.S. in addition to an outlook for landfalling tropical cyclone activity through the end of July 31.  The system also highlights potential tropical cyclone impacts to major metro areas and ports along with expected degree of disruption to oil and natural gas production in the western Gulf of Mexico.  Forecast updates are provided every 15 days.  Reach out to learn more about this exciting development!
WeatherDeep also predicts an above-average Atlantic Hurricane Season this year….
How did WeatherDeep's 2019's Atlantic Basin Forecast Fare?
WeatherDeep released it's 2019 Atlantic Hurricane Season forecast in May last year.  It forecasted 16-18 tropical storms, 10 hurricanes, and 2 major hurricanes.  When the season ended December 1, 2019, the final tally was 18 tropical storms, 6 hurricanes, and 3 major hurricanes.

Call 1 877 820 9238, email info at weatherdeep.com, or contact us at this page for more information.