Subscribe! Reach out for a complimentary trial subscription by using our contact form…
---
WeatherDeep benefited tremendously from it's recent participation in the Air Force's Small Business Innovation and Research program. The SBIR program is a fantastic way for small entities to do business with the Government, and WeatherDeep demonstrated feasibility of its evolving weather technology in support of the Department of Defense and a variety of other federal agencies. Key outcomes are as follows…
"An Early-Warning System for U.S. Tropical Cyclone Landfalls…"
WeatherDeep is now producing monthly, probabilistic forecast guidance for tropical cyclone landfalls in the southern and eastern U.S. The guidance highlights areas of heightened concern for a potential landfall, a projection of landfall intensity, and a brief discussion of various aspects of the forecast. This experimental product is available in WeatherDeep's forecast portal with complimentary trial subscriptions available for select individuals, organizations, and companies.
Additional expansions of WeatherDeep's product suite…
As described in a May 2019 blog post, WeatherDeep has expanded its suite of forecast products to include the following products…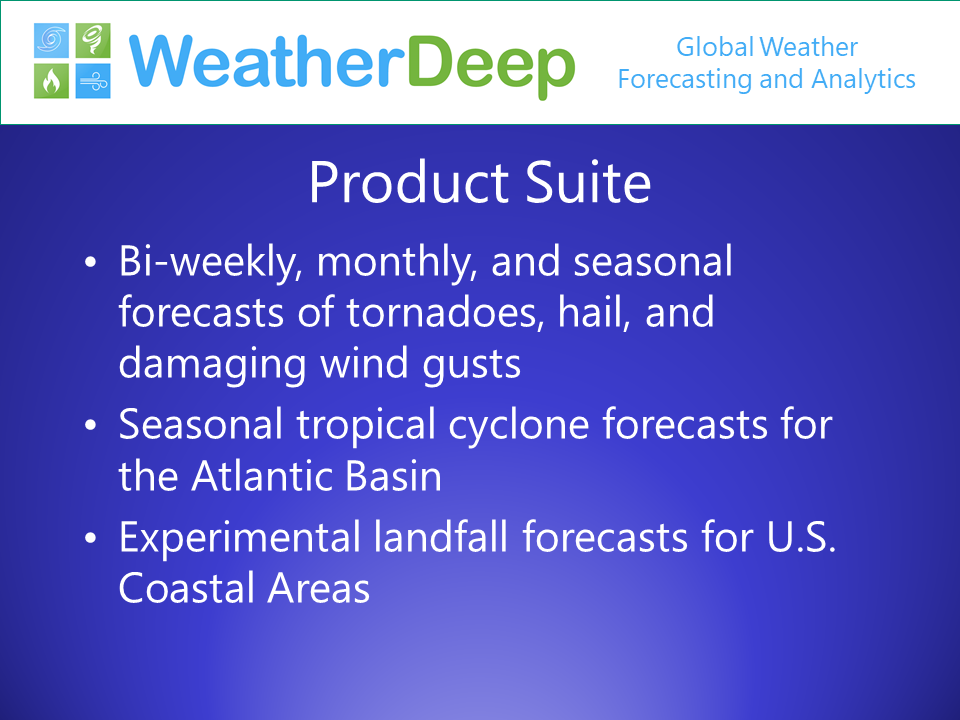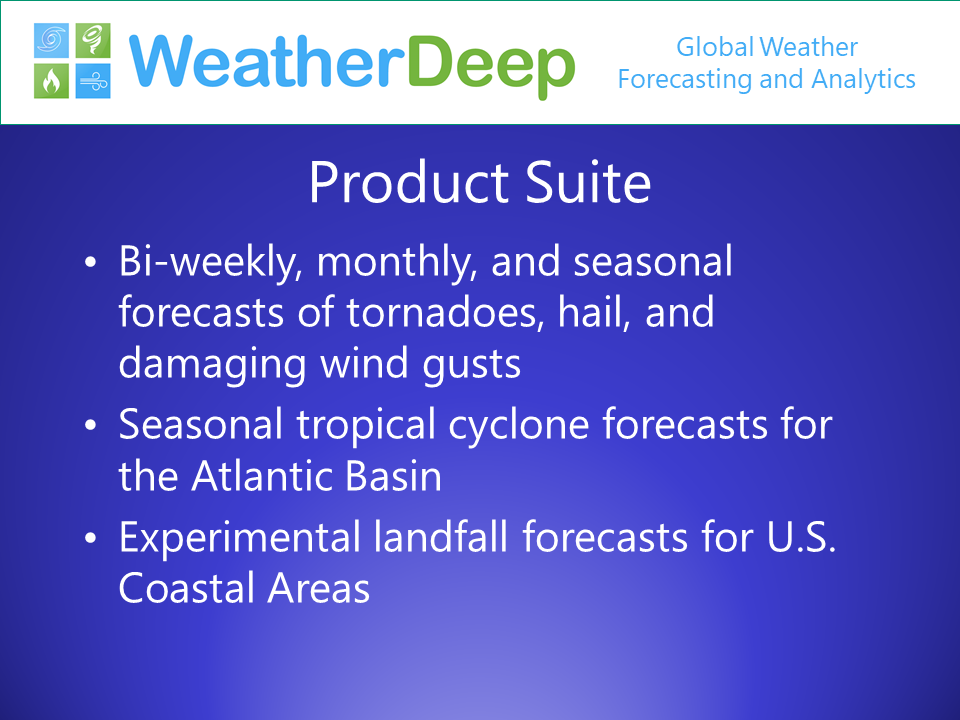 In one of its first operational seasonal forecasts, WeatherDeep anticipated the active May 2019 severe weather period across much of the center of the country. These forecasts will remain operational through the remainder of the year and will cover the nation's second severe weather season, which typically includes fall and early winter.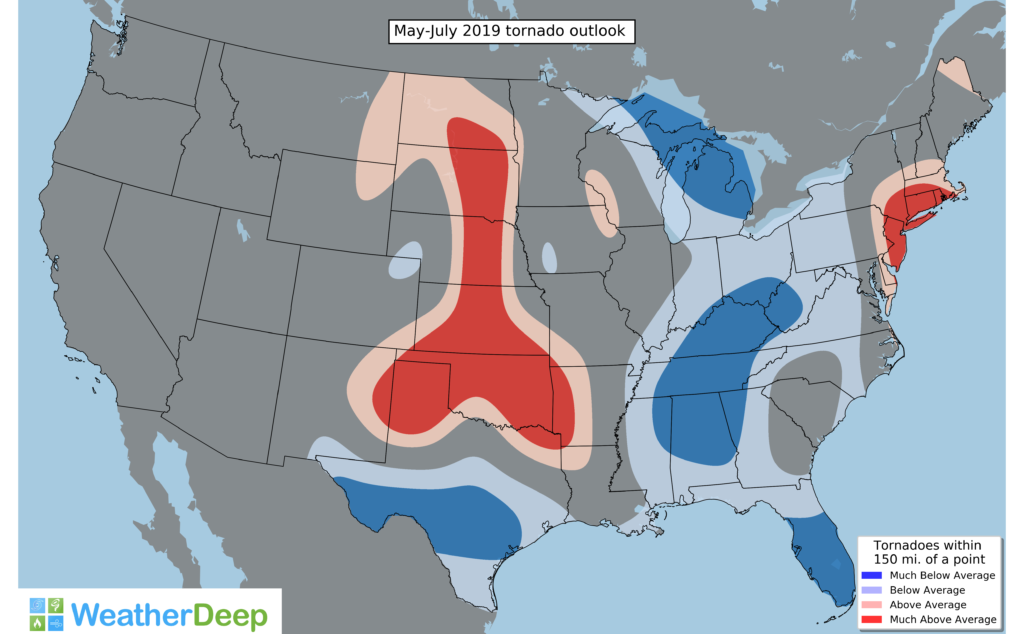 SBIR Phase I Feasibility Study Outcomes…
Throughout the Phase I SBIR effort, WeatherDeep conducted interviews and research on a variety of topics related to potential uses of extended-range forecasts of severe and extreme weather. One of the most apparent use cases for these types of forecasts involve improvement of readiness rates of various critical assets (ships, jets, and other vessels) for evacuation in advance of landfalling tropical cyclones. There were a number of issues related to evacuation of a fleet of F-22 Raptors housed at Tyndall AFB, FL in advance of Michael, and enhanced readiness of the fleet in advance of the storm could have mitigated exposure of as many as 17 jets (valued at $200-340M per jet) to extreme wind and rain. Initial development indicated potential for at least 40-45 days of leadtime in advance of the landfall of Michael and other significant storms.
WeatherDeep also anticipates that its forecasts will enhance situational awareness of domestic severe weather and tropical cyclone threats, providing an expanded decision space for DoD leadership in advance of weather impacts.
For complimentary trial access to WeatherDeep's extended-range forecast portal, contact us and we will reply promptly.