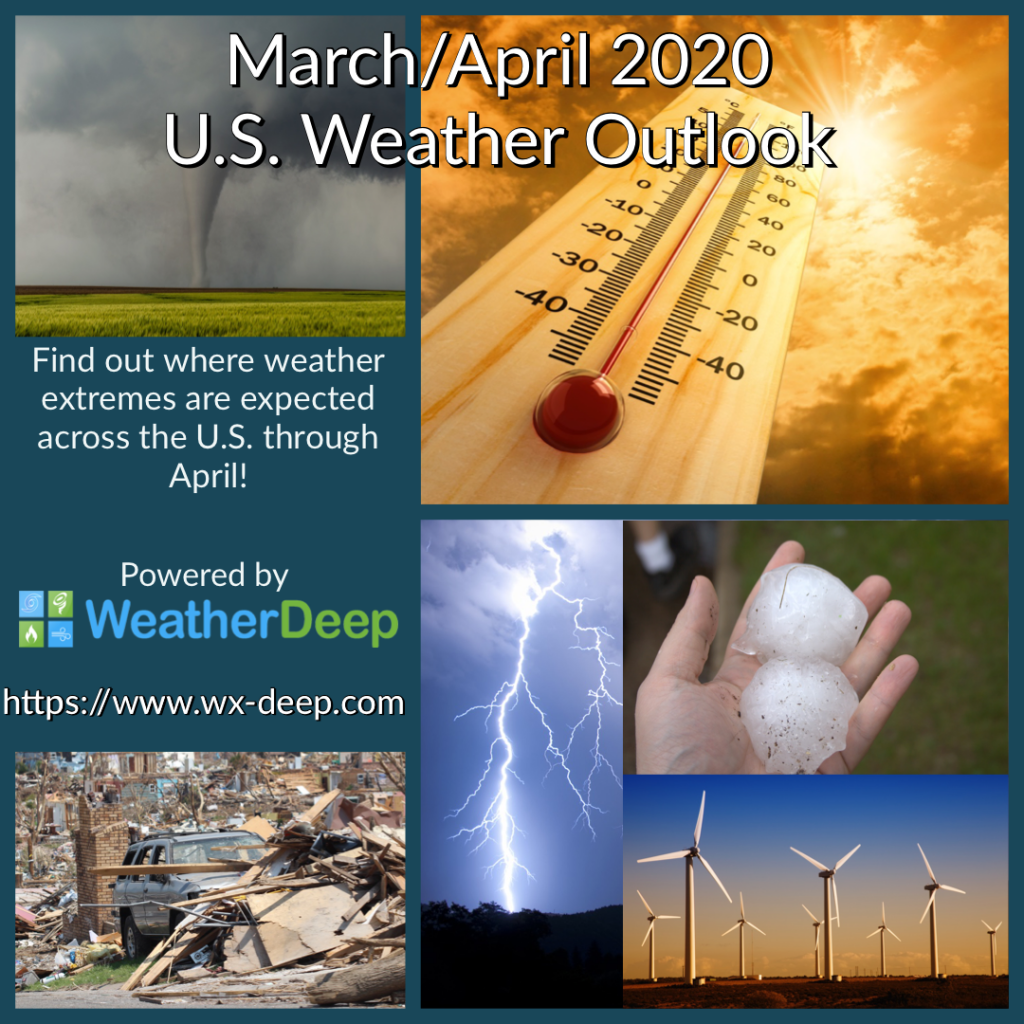 Highlights:
Spring severe weather projections available through June 2020

NEW: March/April U.S. Outlook highlighting temperature and non-thunderstorm wind extremes…
Weather Impacts on Energy Demand and Infrastructure
Extreme weather conditions can exhibit tremendous influence on companies. These events have a particularly strong impact on the energy sector. This is because they affect the industry in multiple ways. When extreme weather hits, the energy sector is affected like any other business. The means of production and distribution can be slowed or stopped because of extreme weather, hurting how the company does business. The added difficulty that is experienced in this sector is that in times of weather hardship, the demand for energy can fluctuate wildly.
This puts added stress on an industry that may already be struggling to provide energy in times of severe weather. It is why more lead time and the most accurate long-term forecasts available are so important in the energy sector. WeatherDeep uses the power of artificial intelligence and machine learning to create accurate extreme weather models that energy sector companies can use to be better prepared for the extreme weather ahead.
Weather Factors for the Energy Sector
Different weather factors can have different impacts on the energy factor. Each of these factors comes with their own specific challenges for the energy sector. Having advanced knowledge of what is coming in regard to each of these extreme weather phenomena can be a huge advantage for energy companies and will allow them to better prepare for what is ahead.
Temperature
Temperature fluctuations result in changes in demand and pricing for oil, natural gas, and electricity. During periods of sustained cold temperatures, there is an increased demand for the fuel needed to heat homes and businesses and with warmer temperatures, the energy needed to cool. On the flip side, if seasonal temperatures do not reach the expected extremes demand could drop affecting supply and prices.
Using WeatherDeep's innovative long-term forecasting technology will allow energy companies to have a better understanding of what is coming 15 – 90 days in advance. This will allow them to better predict demand, manage supply, and generally be prepared for meeting the demands ahead.
Thunderstorms
Thunderstorm winds can impact infrastructure and disrupt energy distribution to homes and businesses. These storms can flood roads and knock out powerlines creating the need for energy companies to scramble to meet the need of their customers when a bug thunderstorm hits. With advanced knowledge of both individual thunderstorms and the volume of thunderstorms in a given season, energy sector businesses can be ready to go and proactive when thunderstorms hit instead of only being reactive.
Surface Winds 
Surface winds that are too strong or too weak can hinder energy production from wind farms. Overall, wind speeds have gone up by about 6% since 2010 due to climate change factors which have been good for the wind power industry, increasing production by 17%. However, if these trends continue, wind speed could jump by an additional 37%. This would be good for wind energy production in certain areas but would likely decrease wind speeds in other areas. The one thing experts agree on is that surface winds will be volatile over the next decade so knowing what is coming further in advance by using WeatherDeep will be a huge advantage.
Major Windstorms
While the winds from thunderstorms can be damaging and the variable surface winds can be disruptive, there is no more catastrophic weather event to the energy sector than major windstorms. Impacts from these major windstorms (such as hurricanes, nor'easters, and typhoons) can destroy power substations, halt energy production, and disrupt supply chains.
With current forecasting technology, the energy sector, like the rest of us, are only getting warned about upcoming storms like tropical cyclones as they form. With WeatherDeep's predictive technology, the energy sector can get seasonal reports to understand the volume of seasonal tropical cyclones in a specific area.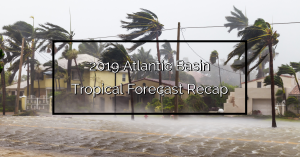 WeatherDeep and the 2019 Atlantic Basin Hurricane Season 
You can look at last year's Atlantic Basin hurricane season to see a perfect example of just how accurately WeatherDeep can predict the seasonal weather extremes. Hurricane season in the North Atlantic starts in June and runs through the end of November. The peak of hurricane season in this region is late August through September.
2019 Long Range Tropical Forecast
In WeatherDeep's June 2019 long-term tropical cyclone report for the Atlantic Basin, the site predicted how many hurricanes tropical storms there would be, how many would turn into hurricanes and how many would develop into major hurricanes. How accurate was WeatherDeep regarding the 6-month season? WeatherDeep forecasted 16-18 tropical storms, 10 hurricanes, and 2 major hurricanes. When the season ended December 1, 2019, the final tally was 18 tropical storms, 6 hurricanes, and 3 major hurricanes.
Tropical Storm Nestor
WeatherDeep also provided much needed long lead times for specific storms as well. Tropical Storm Nestor hit Central Florida and moved through the Southwest U.S. in mid-October of 2019. It caused heavy rain flooding and multiple tornadoes in the region. It also heavily disrupted the energy sector with the damage as well as increased demand for energy while also disrupting production and distribution.
This came as no surprise to users of WeatherDeep. Before tropical Storm Nestor, WeatherDeep provided nearly 40 days of lead time prior to Nestor's initial tropical classification and 41 days of lead time prior to the storm's impact on the Southeast. On September 7, WeatherDeep started highlighting the heightened risk for the tropical storm to make landfall in central and southern Florida. The site reported a 'dramatic increase' in tropical cyclone landfall potential from late September through October.' On October 7, WeatherDeep updated the forecast and increased the probability of landfall in Florida to 70%. On October 18, the storm did in fact hit Florida.
Energy sector companies reading these reports would have had more than a month to prepare for this impending storm. This could have made a huge difference for energy companies around the region.
New WeatherDeep Forecast Products 
WeatherDeep has developed a series of new products to address these hazards and help mitigate risk to the energy sector. These products include:
Bi-weekly and monthly temperature forecasts (expressed as departures from normal)
15 through 90-day forecasts of cooling degree days (CDDs) and heating degree days (HDDs)
Monthly, bi-monthly, and seasonal forecasts of thunderstorm wind damage occurrence
These forecasts are available on WeatherDeep's forecast portal. For a free consultation and more descriptions of these products contact us to subscribe or learn more.
March/April 2020 U.S. Weather Outlook
WeatherDeep's recent product development now affords the ability to provide a general outlook for weather extremes impacting the continental U.S. in the 1-2 month timeframe and possibly further.  The following is a brief description of weather conditions WeatherDeep is expecting through the end of April:
Headlines:
Temperature fluctuations across the north-central U.S. will drive heating demand in those areas
Stronger-than-average surface winds in those areas will also encourage energy production from wind farms in the region.
Conditions will remain unsettled in the southwestern U.S.
Important implications for downstream severe weather potential.
For additional, more detailed information about these forecasts, including a recorded weather briefing for March/April, severe weather projections through June, and downloads of forecasts, use our contact form for a free 30-day trial subscription.