Subscribe! Reach out for a complimentary trial subscription by using our contact form…
WeatherDeep's modeling efforts continue to provide extended lead-times in advance of high impact weather. Tropical Storm Nestor developed in the Gulf of Mexico and approached the Florida Panhandle in mid-October. WeatherDeep provided nearly 40 days of lead time in advance of Nestor's initial tropical classification and 41 days of lead time in advance of impacts across the Southeastern U.S.
WeatherDeep initially began highlighting a heightened risk for a landfall in central and southern Florida in it's September 7 forecast distributed to its portal subscribers, citing a 'dramatic increase' in tropical cyclone landfall potential from late September through October.'  On October 7, WeatherDeep revised that forecast while increasing probabilities of a landfalling tropical storm in Florida to 70%.
"Florida has the greatest likelihood of any landfall from a tropical cyclone this month… After any potential Florida landfall, uncertainty exists with respect to the Southeast and Mid-Atlantic.  If the TC interacts with land areas, any coastal wind impact across the NC/SC/GA area should be lessened." – Quote from WeatherDeep's  discussion describing it's model output.  Distributed October 7.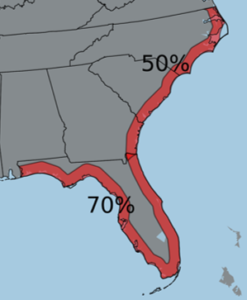 Although Nestor was reclassified as post-tropical shortly before landfall, heavy rainfall and a few tornadoes were noted across much of the Southeast with this system.  Furthermore, modeled maximum intensity potential was accurately forecasts for this system (60 knots).  Verification statistics are available for WeatherDeep subscribers and can be provided to interested entities upon request.
Register for a free trial subscription WeatherDeep's Early Warning System and the remainder of its product suite by using this contact form.
Note: This post is for informational purposes and is not a forecast. For additional details, contact us for a free subscription or other inquiries or refer to other reputable weather sources for real-time weather information.